Recruiting The True Gentleman

Sigma Alpha Epsilon can give you a chance to get the most out of college and leave your mark. Imagine being a part of something bigger than yourself. A group of leaders, social gentlemen, dedicated students, and driven athletes grounded by the values and ideals set forth by our founders as specifically enunciated in The True Gentleman.

Our goal is to recruit the best men on campus to carry on our tradition. For more information contact our Fall 2023 Rush Chairmen, Jackson Tandler and Aaryaman Thuloj or check out our facebook page.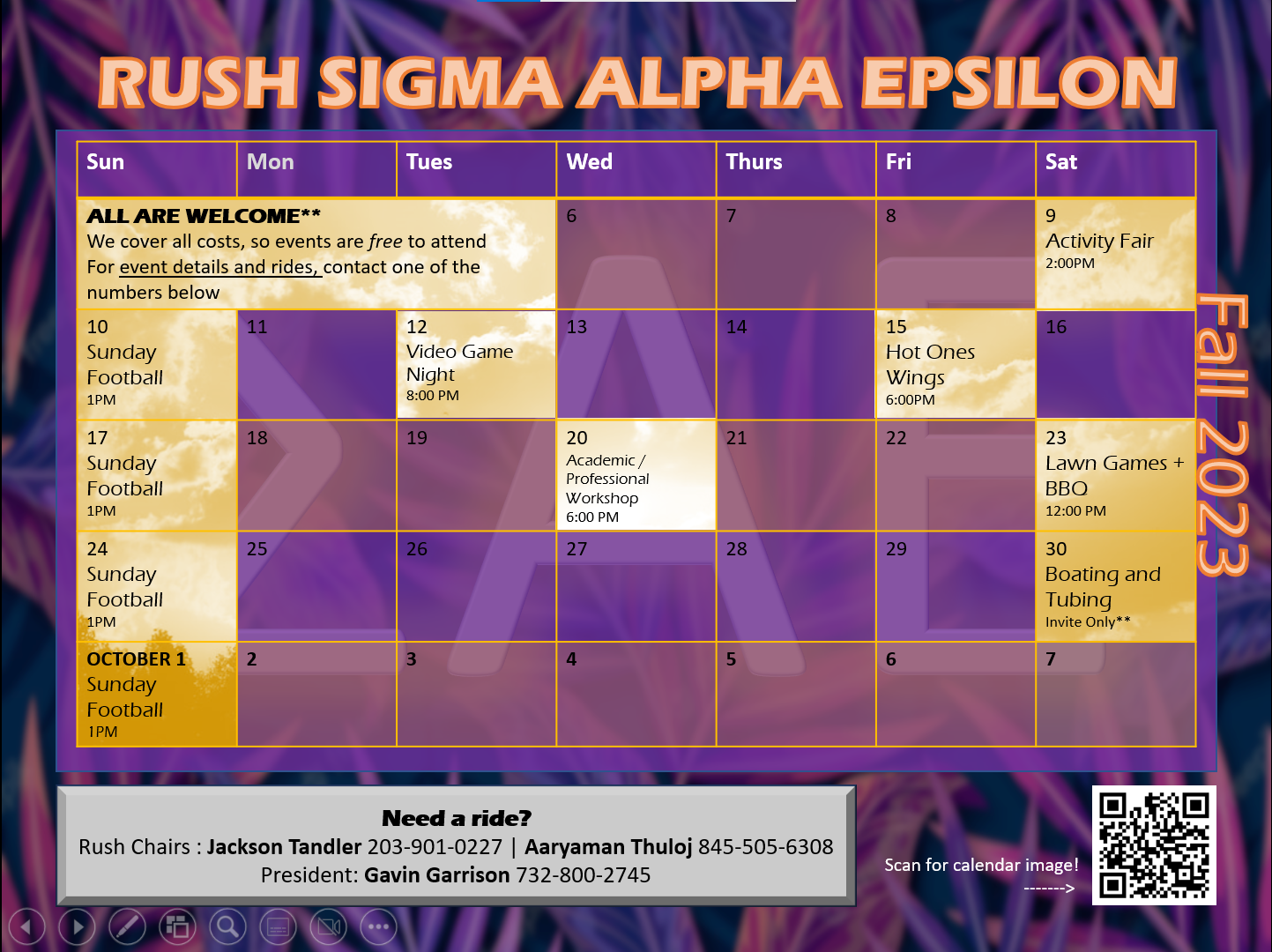 Every Sunday, 1:00 PM-7:00 PM, Sunday NFL Football, Colin/Zack/Parker's apartment 28 Christie St

Got free time? Rushees are welcome any Sunday to hang out with us as we stream NFL Football

Sat. Sep 23, 12:00 PM-2:30 PM, Lawn Games and BBQ, Prospect Park

Meet our brothers and spend the evening playing lawn games with the brothers

Tue. Sep. 12, 8:00 PM- 9:30 PM, Video Game Night, SAE Satellite House

Wind down halfway through the week and play some video games with (or against) our brothers!

Fri. Sep. 15, 6:00 PM-8:00 PM, Hot Ones Wings, Cuz's apartment, 2329 15th

Think you can handle the heat? Our brothers are ready to try the hottest wings and sauces in Troy, and you're invited

Wed Sep 20, 6:00 PM-8:00 PM, Academic and Professional Workshop, On Campus in Student Union

Odds are, our older brothers and alumni have been in your place before. Bring your homework and your resume with you, and our brothers will be happy to offer our academic and professional expertise.

Sat. Sep. 30, 2:00 PM-6:30 PM, Boating on Lake George - Invite Only (Meet at Union Horseshoe)

Enjoy some time out of Troy and come boating (and tubing permitting weather) with the brothers!

Sun. Oct. 8, 7:00 PM-9:00 PM, Bid Dinner at Heffner Alumni House – Invite Only

Rush concludes with an exclusive formal dinner with the brothers and those who are invited to join the fraternity